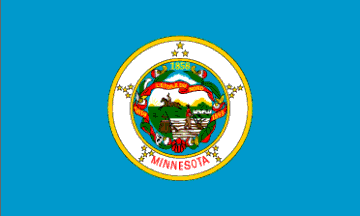 Living in Minnesota!
Last updated December 23, 2021.
Doing a state report on Minnesota? I wrote this essay just for you!

Minnesota is a great place to live. In the paragraphs that follow, I'll tell you what it's like to live here from my perspective.
First of all, I'd like to tell you a little about Saint Cloud, where my family and I live. It's located in the middle of the state, about 60 miles northwest of Minneapolis (the largest city in Minnesota) and about 250 miles south of International Falls, which is at the Canadian border. The population of Saint Cloud is about 67,000, so it's a medium-sized city. The Saint Cloud metropolitan area has a population of about 190,000, making it the fourth-largest in the state.
Saint Cloud is near the boundary between the farmlands of southern Minnesota and the woodlands of the northern part of the state. Southern and southwestern Minnesota are made up of mostly small, rural communities and lots of farms. If you drive down the rural roads there, you will pass by endless miles of farm fields. In the summer, most are planted with corn or soy beans. Around Saint Cloud, there are still quite a few farms. In addition to growing corn and soy beans, there are also some dairy farms as well as many farms that raise chickens and turkeys. We have large poultry processing plants in the area, so they don't have to transport the chickens and turkeys very far when they are ready to be processed for the grocery store.
In addition to the farm industry, Saint Cloud has many other industries as well. Large employers in the Saint Cloud area include New Flyer Industries (which manufactures buses), Arctic Cat (snowmobiles), Fingerhut (a national mail-order company), Coborn's, Inc. (grocery stores) and CentraCare Health Systems (regional medical facilities including Saint Cloud Hospital). We also have many granite quarries in the area. The granite industry used to be more prominent than it is now, and Saint Cloud was once known as the "Granite City." There is a large state university in Saint Cloud (Saint Cloud State University) and two private colleges nearby, The College of Saint Benedict and Saint John's University, where I taught for 36 years, as well as Saint Cloud Technical & Community College.
Minnesota has a relatively low unemployment rate (currently about 3.8% statewide, and even lower in Saint Cloud)). So, many people move here to find a job. Perhaps that is why Minnesota is one of the few Midwestern states where the population is growing faster than the overall national average. Our current state population is about 5.7 million. More than half of Minnesotans live in the Twin Cities area (Minneapolis, Saint Paul, and the surrounding suburbs). The national headquarters of many large corporations are located there, including General Mills (Cheerios, Wheaties, Betty Crocker, etc.), Honeywell (everything from Prestone Antifreeze to cell phones), Pillsbury (food products), 3 M (Scotch Tape and Post-it Notes plus many other products), Target Corporation (consumer goods retailer, Best Buy Corporation (electronics products retailer), Medtronic (medical devices and technology), Polaris Industries (snowmobiles and ATVs). and Anderson Windows and Doors (the largest manufacturer of windows and doors in North America).
The Twin Cities are also the entertainment and cultural center of the upper Midwest and offer theaters, orchestras, and museums (including the Minnesota Children's Museum, The Science Museum of Minnesota, and the Minneapolis Institute of Arts), as well as professional sports. The main campus of the University of Minnesota is located in the Twin Cities, and our state capital is in Saint Paul. That's where our governor, Tim Walz spends much of his time. Of course, the Mall of America is located in the Twin Cities suburb of Bloomington. The Mall of America is the largest indoor shopping center in the country.
As I stated at the beginning of this essay, Saint Cloud is sort of on the boundary between farmland and woodland. As you go further north, you see mostly forests and lakes. Tourism is an important industry in northern and northeastern Minnesota, and many people from all over the country come to Minnesota to enjoy the outdoors, particularly the lakes. Though Minnesota is known as the "Land of 10, 000 Lakes," there are actually 11842 lakes larger than 10 acres in the state! The Boundary Waters Canoe Area in northeastern Minnesota has some of the most beautiful and unspoiled lakes in the United States, and it is a popular vacation destination, especially for those who want to camp and canoe in a wilderness area. Even here in central Minnesota where Saint Cloud is located, there are hundreds of lakes. Most have a public access where people can launch their boats to fish, water ski, or just cruise around the lake. With all of these lakes, it's not surprising that Minnesota has the largest number of boats per capita in the U.S., one for every six Minnesotans! No wonder many boat manufacturers, including Alumacraft, Bayliner, Crestliner, and Lund, are located in Minnesota.
You probably know that the Mississippi River starts here in Minnesota. There's a state park where it begins called Itasca. The river is so narrow there that a person can almost jump across it. You probably also know that Minnesota borders Lake Superior's north shore. The city of Duluth in the northeastern part of the state is a major Great Lakes shipping port. That's where the taconite iron ore that's mined on the Mesabi Iron Range, which is just north of Duluth, is shipped to destinations were it can be made into steel.
You've probably also heard of the Mayo Clinic. This famous medical center and leader in cancer treatment is located in Rochester, Minnesota, which is in the southeastern part of the state.
Much of northwestern Minnesota is a flat, fertile plain that used to be part of a huge, prehistoric lake named Lake Agassiz. After the ice age, it emptied out and left only Lake of the Woods (on the border of Minnesota and Canada), Upper and Lower Red Lakes (in north central Minnesota), and Lakes Winnipeg, Winnipegosis, and Manitoba (all in Canada). Much of the remainder of the former lake bed is a large, low area that's known as the Red River Valley. Though it is good farmland, it is also a flood plain. In 1997, whole towns in North Dakota and northwestern Minnesota were under water when the area had a terrible flood.
If you're from a warm-weather state, like California for instance, you might think that Minnesota is still in an ice age and that it's cold here all year. Actually, the weather here in Minnesota can be quite pleasant. The summers are warm, and we usually get several days in July and August when it's hotter than 90 degrees. Typically, though, our summer temperatures are in the 70s or 80s. Of course, it can get very cold here in the winter. It sometimes gets as cold as -40 during January in Saint Cloud, and it's been colder than -50 in northern Minnesota. When it gets that cold, most people stay inside (unless they're crazy!).
We get a blizzard or two almost every winter, and we average about 50 inches of snow per year here in central Minnesota. I know that sounds like a lot, but it packs down and melts periodically, so the snow's typically only about 12 inches deep. The amount of snow varies from winter to winter, and although 2013-2014 was very cold with more than 80 inches of snow, the last three winters were relatively mild with below average snowfall.
Most people who live in Minnesota enjoy the winter. They go ice skating, sledding, snowmobiling, and skiing. Some even go ice fishing. They actually drive their cars out onto a frozen lake and drill a hole in the ice to fish! The ice is sometimes as thick as three feet, but they have gas-powered ice augers that drill through it in no time. A lot of those who ice fish have little houses that they bring out on the lake. They have holes in the floor so they can fish in them. Some of these ice fishing houses have a heater, stove, and even a TV! If you've seen the movie "Grumpy Old Men," you'll know what I mean. The City of Saint Paul ecelebrates the season with its annual Winter Carnival which is held during January, the coldest month of the year.

Most high schools around here have hockey teams (for both boys and girls), and some even have cross-country ski teams. Of course, they have all the usual sports as well, like basketball. football, soccer, baseball, track, tennis, swimming. and volleyball.
If you're wondering what it would be like to go to school in Minnesota, my guess is that it probably wouldn't be too different than going to school in your state. There are teachers, tests, and homework, just like everywhere else. We do think our Minnesota schools are pretty darned good, however, and with good reason. About 88% of Minnesota students who start high school graduate (among the best in the nation); two-thirds continue on to college, and Minnesota students had the highest ACT scores in the U.S. for the 10th straight year!
I guess the one thing I haven't told you about Minnesota is what the people are like. Maybe you think that most everyone who lives in Minnesota has blond hair, blue eyes, and talks with a Swedish accent. There are some people like that here, but Minnesota is like most other states in that we have people of all races and most every nationality, including quite a few Native Americans. Most Native Americans who live in Minnesota are Dakota Sioux or Ojibwe/Chippewa, and many live on the numerous Indian reservations in the state. Some of these reservations run profitable gambling casinos. Though gambling is illegal in Minnesota, the reservations have the status of sovereign nations and are exempt from some state laws.

Like many other states, Minnesota has a relatively large number of recent immigrants, including many Hmong who came to Minnesota in the 1980s and 1990s. There are also many Somalis who fled their war-torn country and moved to Europe, Canada, and the United States. There are currently more Somalis in Minnesota, including many in Saint Cloud, than any other U.S. state.
There are a lot of famous people who are from Minnesota. The list of famous Minnesotans includes former vice presidents Hubert Humphrey and Walter Mondale; singers Bob Dylan and Prince; comedians Jack Benny, Whoopi Goldberg, and Louie Anderson; writers F. Scott Fitzgerald and Sinclair Lewis; Charles Lindbergh, the famous aviator, and Charles Schulz, the noted "Peanuts" cartoonist.
Whether they're famous or not, most Minnesotans are friendly, helpful, and polite. We refer to this behavior as "Minnesota-nice," and it's true; people who live in Minnesota typically are quite nice. So, no matter how many other good things there are about Minnesota, I'd have to say it's the people who make this such a great state.
Well, I hope I have given you at least a little help with your report. I also hope that you like the state where you live as much as I like Minnesota. If you want more information, go to my Minnesota page. You can find sites there that will give all the facts and figures. If you have a specific question you'd like answered, e-mail me at the address listed at the bottom of this page.
Return to Information and Lesson Plans About Minnesota
My name is Edmund J. Sass, Ed.D.
You can reach me at
esass@csbsju.edu
Background courtesy of Frassed Zone